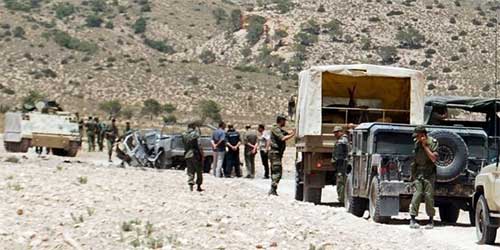 Tunisian security forces have killed several terrorists in an operation against an armed group suspected of an attack this week in which two policeman died, the interior ministry said Friday.
"Special forces from the interior ministry, the National Guard and the army took part in this operation. It began with air strikes and we are now in the terrestrial phase," ministry spokesman Mohamed Ali Aroui said.
"Several terrorists have been killed, but we can't say how many as the operation is ongoing."
Interior Minister Lotfi Ben Jeddou, speaking on private radio station Mosaique FM, said late on Thursday that the group was made up of around 20 to 25 fighters.
Two policemen were killed and another wounded in Thursday's clash in the Beja region, 70 kilometres (45 miles) west of Tunis, where they were trying to verify the presence of an armed group sheltering there.
Islamist militancy has been on the rise in Tunisia since the 2011 revolution that toppled strongman Zine El Abidine Ben Ali and sparked the Arab Spring.
But the authorities had not previously reported that armed groups were active in the Beja region.