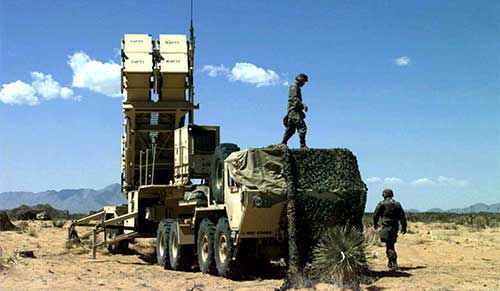 Turkey has asked NATO to extend for another year the deployment of surface-to-air Patriot missiles to protect its troubled border with Syria because of a continuing "serious" threat, officials said on Wednesday.
"We have received a letter from the Turkish government requesting the continuation of the Patriot mission," a NATO official said.
"The North Atlantic Council has regularly assessed the situation and the implementation of the Patriot mission. It is clear that the overall risks and threats to Turkey remain serious," the official said.
Turkey turned to its NATO allies after a mortar bomb fired from Syrian territory killed five Turkish civilians in the border town of Akcakale in October last year.
Since the deadly attack, Turkey has retaliated in kind for every Syrian shell that has landed on its soil and beefed up its volatile 910-kilometre (560 mile) frontier.
The six batteries of the US-made missiles, effective against aircraft and short-range missiles and dispatched by the Netherlands, Germany and the United States, are deployed in the southern city of Adana and the southeastern cities of Kahramanmaras and Gaziantep.
"Allies have shown a strong commitment to protect and defend Turkey," said the NATO official.