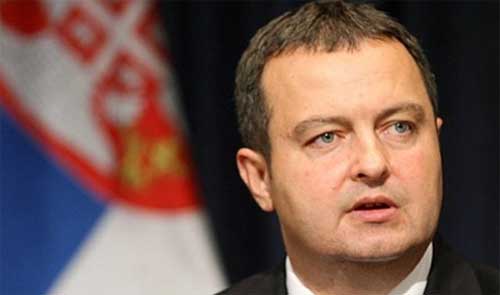 EULEX, KFOR and UNMIK should stay in Kosovo "as long as possible so as to ensure peace and security for all citizens, primarily Serbs," says Serbian Prime Minister Ivica Ivica Dačić.
The prime minister told reporters that he also said that to EULEX chief Bernd Borchardt earlier in the day on Thursday, stressing that the international missions are guarantors of the implementation of peace agreements.
"We are of the opinion that EULEX and all other international missions should stay in Kosovo and Metohija as long as possible, as they are guarantors of the implementation of various peace agreements," Dačić said.
The international missions should remain in Kosovo and Metohija, as it is in Serbia's interest that peace and stability be maintained, all citizens protected, and ethnically motivated incidents and attacks on Serbs prevented, he said.
"We are against a reduction in the functions and competences of UNMIK, EULEX and KFOR, which Priština is proposing, because Serbs do not place enough trust in Priština's authorities," Dačić said.
Although Serbia had reservations about the arrival of EULEX, it is important at this moment that the mission stays, that it does not reduce its scope and competences, he said.