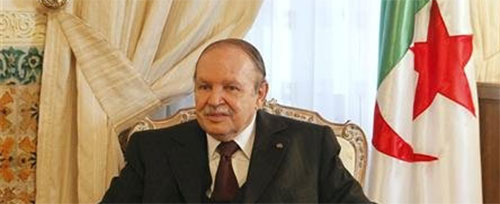 President of Algeria Abdelaziz Bouteflika said on Sudnay that he is committed to reinforce ties with Morocco, as he congratulated Moroccan King Mohammed VI for the 58th anniversary of the independence of his nation, a couple of weeks after a diplomatic crisis sparked between the two neighboring nations.
"It is a great pleasure to congratulate the Kingdom of Morocco for its 58th independence anniversary, and I'd like to present on behalf of the people and the government of Algeria my best wishes for more progress and prosperity for the brotherly Moroccan people, " wrote President Bouteflika in his message to King Mohamed VI.
"This is a happy occasion to reaffirm my desire to work for the safeguard and the reinforcement of our brotherhood ties and cooperation relations uniting our two nations and our peoples," Bouteflika added.
A diplomatic crisis has sparked recently between Algeria and Morocco following the recall of Moroccan ambassador to Algiers over the situation of human rights in the Western Sahara.
One young Moroccan climbed the walls of the consulate, and tore down the Algerian flag, before the police intervened. This "isolated act," according to the Moroccan authorities, has stimulated the entire Algerian political class.
Algiers rejected the arguments of Rabat, and required "an investigation to determine the facts and ensure that appropriate action have been taken in response to this particularly serious incident."
Morocco, then, sent back its ambassador to Algiers, while observers believe that such a crisis is a mere passing summer cloud.
The border between the two nighboring nations has been closed for many years, as Algeria believes that Moroccan authorities are not doing enough efforts to secure the borderline from infiltration of narcotic and trafficking gangs.