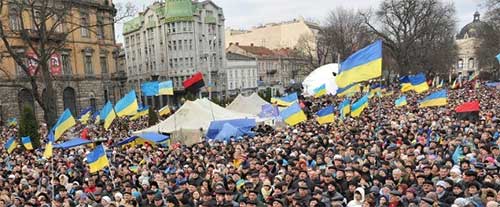 Thousands of protesters camped out Monday in Kiev's central square after violent clashes during huge demonstrations calling for early elections to punish the Ukrainian government for rejecting a historic EU pact.
Defying a protest ban, the energetic crowd chanted "Revolution!" and "Down with the gang" as it drove dozens of helmeted police off Independence Square. Protesters also steered a bulldozer near metal barricades protecting the nearby presidential administration office.
The country was thrown into its deepest crisis since the 2004 pro-democracy Orange Revolution when Yanukovych snubbed EU leaders at a summit on Friday and opted to keep Ukraine aligned with its former master Russia.
EU leaders primarily blame the decision on the stinging economic punishments Russia had threatened should Ukraine take the fateful step toward the West.