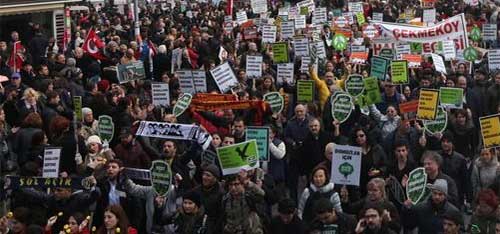 The police in Turkey's Istanbul fired rubber bullets, tear gas andwater cannon to disperse more than 10,000 anti-government protesters on Sunday.
An eyewitness said five people were injured and one had a heart attack during thedemonstration supported by more than 200 political parties, associations and platforms inthe country.
Clashes broke out between more than 1,000 policemen and 10,000 protesters after asmall group of protestors threw stones at officers at a security checkpoint in Kadikoydistrict of Asian side of Istanbul.
Protesters said they are against the urbanization projects in Istanbul and the worseningcorruption in the country.
Some representatives of opposition parties and nongovernmental organizations are amongthe protesters with slogans like "Let's protect Istanbul against plundering."
Many roads on Istanbul's Asian side were closed for the rally which was officially permittedby the Istanbul Governor's Office.
More than 80 high ranking officials and noted businessmen, including sons of threeministers, were detained and arrested in sweeping raids in Istanbul and the Turkish capitalof Ankara this week.