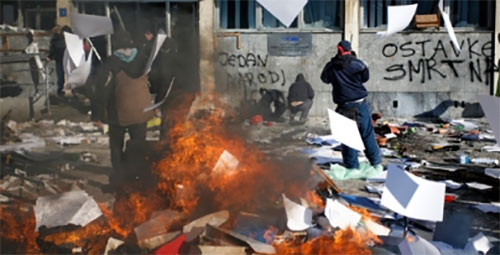 Protesters in Sarajevo have started throwing stones, garbage bins and road signs at police officers.
An emergency situation has been declared around the building of the Sarajevo Canton government and the entrance of the building is in flames.
Protesters have managed to enter the building and are throwing things outside the windows. Fire engines cannot reach the site because of heavy traffic. At least four people have been injured, including a journalist. Main roads in Sarajevo have been blocked. Protesters are heading for the President's Office.
In the northern town of Tuzla, around 11 000 people staged a protest outside the government building. The rally escalated into unrest, as protesters managed to break through the police cordon and stormed the building. The building is in flames and firefighters are trying to put out the blaze amid strong winds. Five civilians and three police officers have been injured.