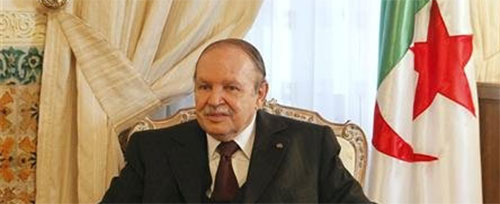 Algerian President Abdelaziz Bouteflika on Tuesday warned against any attempts to destabilize the military.
"No one has the right, whatever his position, to attack the People's National Army or other state institutions," Bouteflika said in a message of condolences to victims of a military plane crash that killed 77 people on the same day.
He was obviously referring to the open criticism of the country's military intelligence chief by the leader of the ruling National Liberation Front (FLN).
FLN Secretary General Amar Saadani, a staunch supporter of Bouteflika for a fourth term in April elections, demanded Gen. Mohamed Mediene, chief of the Department of Intelligence and Security, resign.
Saadani accused Mediene, alias "Toufik," of preventing President Bouteflika from running for a fourth term and interfering in the work of political parties, the judiciary and the press.
Bouteflika, however, has sided with the military.