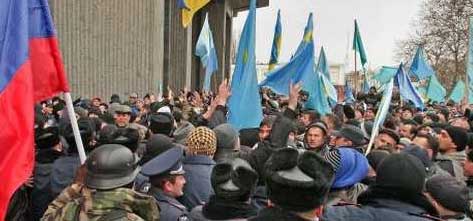 Fistfights broke out between pro- and anti-Russian demonstrators in Ukraine's strategic Crimea region on Wednesday as Russian President Vladimir Putin reportedly ordered tests of the combat readiness of troops just across the border.
In Crimea's regional capital of Simferopol, more than 10,000 Muslim Tatars rallied in support of the three-month protest movement that sent President Viktor Yanukovytch into hiding last week and the interim government it has spawned. Waving Ukrainian flags, they chanted "Ukraine is not Russia!"
That group clashed with a smaller pro-Russian rally nearby in which participants waved Russian flags. Protesters shouted and punched one another, as police and leaders of both rallies struggled to keep the two groups apart.
The tensions in Crimea a peninsula in southern Ukraine that is home to Russia's Black Sea Fleet highlight the divisions that run through this country of 46 million, and underscore fears that the country's mainly Russian-speaking east and south will not recognise the interim authorities' legitimacy.