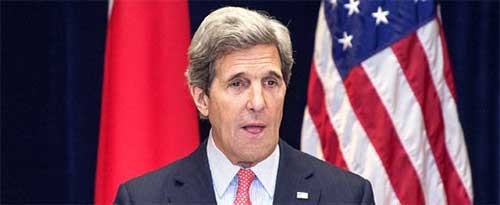 In a show of U.S. support for Ukraine's new leadership, Secretary of State John Kerry walked the streets of Kiev on Tuesday and promised the crowds that American aid is on the way.
Kerry met in Ukraine with the new government's acting president, prime minister, foreign minister and top parliamentary officials. Speaking to reporters afterward, Kerry urged Russian President Vladimir Putin to stand down and said the U.S. is looking for ways to de-escalate the mounting tensions.
"It is clear that Russia has been working hard to create a pretext for being able to invade further," Kerry said. "It is not appropriate to invade a country, and at the end of a barrel of a gun dictate what you are trying to achieve. That is not 21-century, G-8, major nation behaviour."
Kerry made a pointed distinction between the Ukrainian government and Putin's.