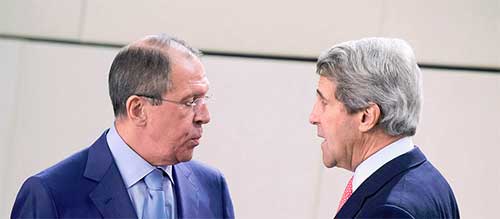 US Secretary of State John Kerry spoke this morning with his Russian counterpart Sergei Lavrov during which Kerry made clear that "any further escalatory steps makes the window for diplomacy more difficult."
State Department Spokeswoman Jennifer Psaki told reporters that Kerry also reiterated "his willingness to continue to engage with Foreign Minister Lavrov, including this week, but that the environment has to be right and the goal must be to protect the immunity and sovereignty of Ukraine. And we didn't see that, obviously, in the responses that we received back." She added Kerry "also raised concerns about reports of what we're seeing on the ground and stated that it is unacceptable that Russia force and irregulars continue to take matters into their own hands.
"Finally, he conveyed there is an off-ramp here. We respect Russian interests and we respect the fact that Russia has interests, particularly in Crimea, but those interests in no way justify military intervention or the use of force," she affirmed.
She noted that they ended the call "by agreeing to continue to engage and talk in the coming days."