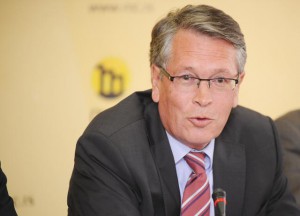 KRUŠEVAC — Russian Ambassador to Serbia Alekasandr Chepurin said on Wednesday that he expects good cooperation with a new Serbian government.
"Russia and Serbia have always had friendly relations, and what is good for Russia is good for Serbia too; the stronger Russia is, the better for Serbia," the diplomat said in Kruševac, central Serbia
Asked what foreign policy he expects that the next Serbian government would pursue, Chepurin said that he had recently had meetings with Serbian officials, and that he will have some in the coming days, and noted that he expects good cooperation with the next government.
Chepurin told reporters that cooperation between two countries does not depend solely on people but rather on geopolitical issues.
The ambassador did not wish to comment on foreign media reports that the South Stream construction was "at risk."
During his first visit to Kruševac, Chepurin talked with Mayor Bratislav Gašić and local officials about the politics, development of the countries and ties that exist between Serbia and Russia.
"We have underlined that we have certain experience in cooperation, but we do not live in the past, but rather in the future, and we have a bright future," he said.
He voiced hope that a mode of cooperation with local authorities would be found, and noted that there are prospects for cooperation in the construction industry, agriculture, energy sector and culture.