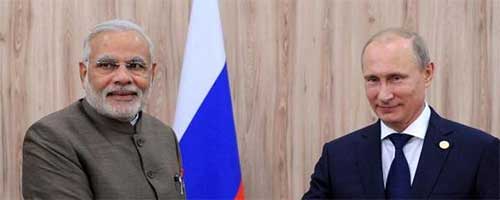 Hailing Russia as "our country's greatest friend," Prime Minister Narendra Modi told Russian President Vladimir Putin that India was committed to deepening ties between the two countries and to exploring new areas of cooperation.
Mr. Modi met the Russian President on the sidelines of the 6 th BRICS summit in Fortaleza, Brazil, on late Tuesday night and invited him to visit the Kudankulam nuclear power plant in Tamil Nadu.
"If you ask anyone among the more than one billion people living in India who is our country's greatest friend, every person, every child knows that it is Russia," Mr. Modi said.
The two heads of nations discussed all major bilateral issues concerning strategic affairs, global political matters, defence cooperation and economic ties during the 40-minute meeting, during which Mr. Modi was reportedly briefed about Russia's position on the crisis in Ukraine.