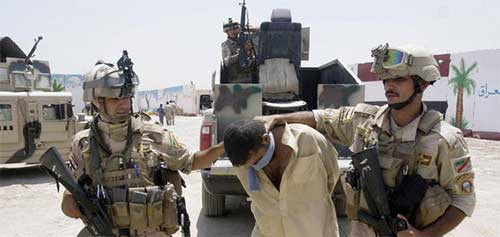 The Iraqi security forces fought Sunni militant groups in several areas across the country, while the troops continued a major offensive to free the militant-seized city of Tikrit, security sources said on Wednesday.
In Salahudin province, the troops continued their battles with Sunni militants, including those who are linked to the Islamic State (IS), an al-Qaida offshoot, in the provincial capital city of Tikrit, some 170 km north of Baghdad, after a day of fierce clashes that enabled the troops from seizing an area in southeastern the city, a provincial police source told Xinhua on condition of anonymity.
The fierce resistance from the militants prevented the troops from entering the city downtown from all the routes except for the southeastern edge of the city which is witnessing a continuous battles since Tuesday, the source said.
The army and police forces backed by tanks and covered with helicopters on Tuesday moved into the city from several routes at dawn and fought fierce clashes with the militants in an operation dubbed the "Cutting Sword" to free the city from the tribal fighters and Sunni militants groups, according to a provincial security source.