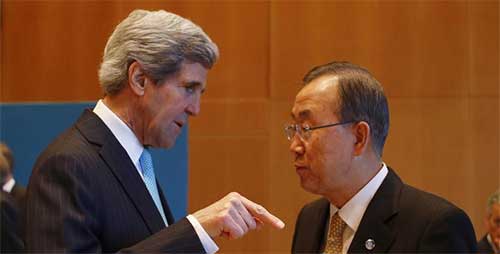 The United Nations Secretary General Ban Ki-Moon and United States Secretary of State John Kerry are expected in Cairo Monday to push for a ceasefire in the Gaza Strip.
The latest militarised conflict to affect the Gaza Strip has so far killed at least 509 Palestinians and 20 Israelis.
Ban is expected to arrive in Egypt on Monday afternoon on the heels of a meeting in Qatar with Palestinian Authority President Mahmoud Abbas. Ahead of their meeting Ban reiterated his call for a ceasefire and pledged to continue efforts to achieve this as he travels the region. He called for "an immediate end to the Israeli military operation in Gaza and the rocket fire by Hamas and Islamic Jihad".
Ban decried the deaths of at least 60 people in the Gaza's Al-Shuja'iah neighbourhood. He said:  "I condemn this atrocious action. Israel must exercise maximum restraint and do far more to protect civilians."
The UN chief also condemned the deaths of 13 Israeli soldiers, which occurred in several separate incidents, according to the Israeli Defense Forces.