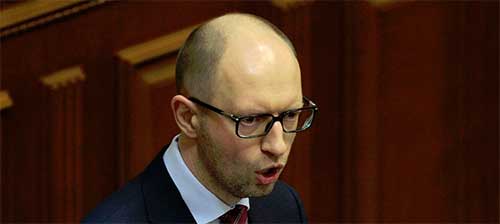 Ukraine's Prime Minister Arseniy Yatsenyuk resigned on Thursday after his governing coalition collapsed, plunging the former Soviet State into political limbo. The news came hours after the coalition that had supported Mr. Yatsenyuk's Fatherland party dissolved, a move that all coalition members had sought.
The Udar (Punch) party of former heavyweight boxer Vitali Klitschko and the radical nationalist Svoboda party of Oleh Tyahnybok called for fresh elections as they withdrew from the coalition.
Mr. Yatsenyuk said his resignation comes in response to parliament's failure to pass legislation that would have eased the country's gas dependency on Russia.
"Today's events in parliament will have dramatic consequences for the country," say Mr. Yatsenyuk, referring to a failed bill which would have allowed foreign investors to partake in Ukraine's gas transportation system.
Deputy Prime Minister Vladimir Groisman will head the government in the interim, announced Interior Minister Arsen Avakov.