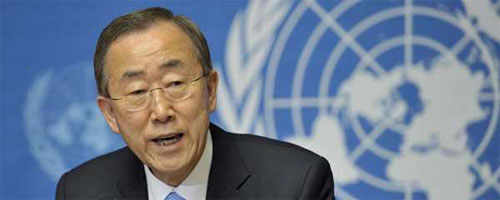 Visiting UN Secretary-General Ban Ki-moon stressed here on Thursday the significance of creating a new Iraqi government as a gateway to rebuilding Iraq.
Speaking at a short news conference following a just-one-hour meeting with top Shi'ite cleric Ayatollah Al-Sistani in Najaf for the first time, Ban said the formation of a new Iraqi government could help in ending splits and divisions among Iraqi components and fighting terrorism.
On his talks with Al-Sistani, he said they had discussed the current crisis in Iraq and humanitarian response to it, voicing UN gratitude to the Shi'ite cleric for his efforts to protect civilians in the current conflict in Iraq.
The UN chief added that they had considered several reports on heinous human rights violations committed against civilians and places of worshipping.
He also voiced full support for all efforts to create a new peaceful, tolerant and prosperous Iraq, vowing that the UN would carry on working to ensure peace, development and human rights in Iraq.