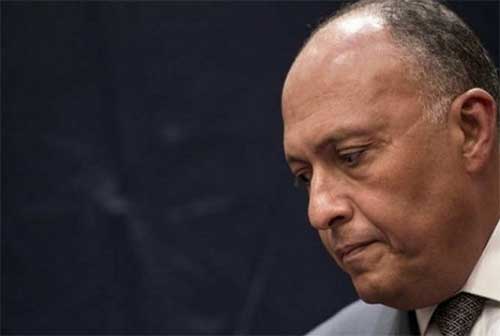 Egyptian Foreign Minister Sameh Shoukry discussed facilitating and speeding up the evacuation of Egyptian nationals from Libya's neighbour to the west, Tunisia with Tunisian Prime Minister Mahdy Gomaa.
Shoukry said he was tasked by President Abdel Fattah Al-Sisi to visit Tunisia to express appreciation of the efforts of Tunisian authorities in facilitating the return of Egyptians, a foreign ministry statement said.
Shoukry arrived in Tunisia on Monday morning and headed to Djerba International Airport to ensure that the travel of Egyptians, through the emergency airlift set up between the Djerba airport and the Cairo International airport, is regular. It is estimated that between 3,000 and 6,000 Egyptians are stuck at the Tunisia-Libya border.
The Tunisian prime minister said Tunisia is keen on providing all possible assistance and facilities to return Egyptians who are in the border area, adding that Tunisian authorities have issued the instructions to provide the buses and the possibility of using more Tunisian airports, including the Gabès airport.  Gomaa stressed that there was coordination between Tunisian and Libyan authorities to speed up the process of crossing from the Libyan to the Tunisian side of the border.