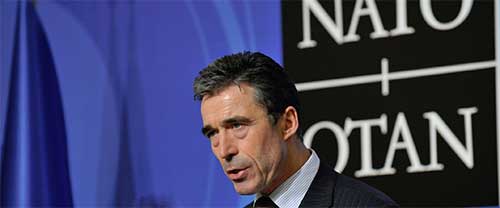 NATO Secretary General Anders Fogh Rasmussen discussed the impact of the Ukraine crisis on the Alliance's collective security with British Prime Minister David Cameron and Supreme Allied Commander Europe Gen. Philip Breedlove at Allied Command Operations headquarters in the Belgian city of Mons on Monday.
"We are at a crucial point in history: as we remember the devastation of World War One, our peace and security are once again being tested, now by Russia's aggression against Ukraine. And the criminal downing of Flight MH17 has made clear that a conflict in one part of Europe can have tragic consequences around the world," said Rasmussen in a statement after the meeting.
The two men are attending World War I remembrance ceremony in Mons, 72 kms south west of Brussels.
According to an NATO statement, Rasmussen and Cameron were briefed by Gen. Breedlove on his assessment of recent events in Ukraine.