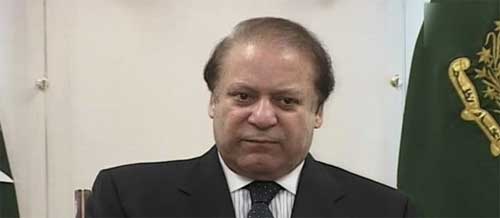 Thousands of supporters of two opposition parties, demanding resignation of Pakistani Prime Minister Nawaz Sharif, on Wednesday besieged the country's parliament as its session is in process.
The protesters who entered a high security area "Red Zone" in Islamabad late Tuesday night blocked the two main gates of the parliament to stop member of the National Assembly (the lower house) to come out after the session.
Prime Minister Sharif is also attending the meeting in the parliament house to discuss the ongoing protests in the country.
The Pakistan Tehrik-i-Insaf (PTI) Chairman Imran Khan and the Pakistan Awami Tehrik (PAT) chief Tahir ul Qadri led two separate long marches from eastern city of Lahore on Aug. 14 to Islamabad to press the gov't to fulfill their demands including the resignation of Sharif.
PTI chief Khan, whose party has 34 seats in the lower house, alleged that Sharif's party managed to win the 2013 general election through rigging at mass level. He has been demanding the free and fair probe into the rigging by a panel of the country's apex court after resignation of the PM.