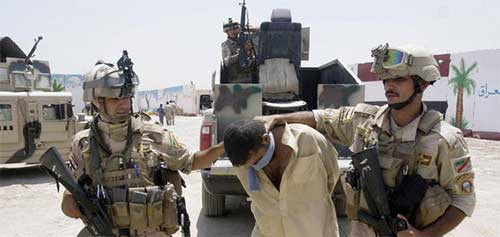 Iraqi security forces and Shiite militiamen on Sunday broke a six-week siege imposed by the Islamic State extremist group on the northern Shiite Turkmen town of Amirli, as a suicide bombing killed 14 people in Anbar western province, officials said.
Army spokesman Lt. Gen. Qassim al—Moussawi said the operation started at dawn Sunday and the forces entered the town shortly after midday.
Speaking live on state TV, al—Moussawi said the forces suffered "some causalities," but did not give a specific number. He said fighting was "still ongoing to clear the surrounding villages."
Breaking the siege was a "big achievement and an important victory" he said, for all involved- the Iraqi army, elite troops, Kurdish fighters and Shiite militias.
Turkmen lawmaker Fawzi Akram al—Tarzi said they entered the town from two directions and were distributing aid to residents.
About 15,000 Shiite Turkmens were stranded in the farming community, some 105 miles (170 kilometers) north of Baghdad. Instead of fleeing in the face of the Islamic State group's rampage across northern Iraq in June, the Shiite Turkmens stayed and fortified their town with trenches and armed positions.
Residents succeeded in fending off the initial attack in June, but Amirli has been surrounded by the militants since mid—July. Many residents said the Iraqi military's efforts to fly in food, water and other aid had not been enough, as they endured the oppressive August heat with virtually no electricity or running water.