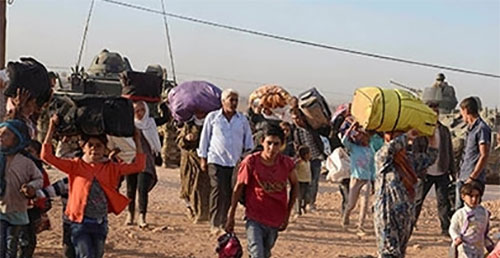 Some 130,000 Kurdish refugees fleeing Islamic militants have crossed the border from Syria into Turkey in the past four days, Turkey's deputy prime minister said today as fighting raged close to Turkey's southern border.
The minister, Numan Kurtulmus, warned that Turkey was facing "a refugee wave that can be expressed by hundreds of thousands."
"This is not a natural disaster. What we are faced with is a man-made disaster," Kurtulmus said of the surge of mostly women, children and the elderly that started late Thursday.
The situation has raised tensions between Turkish authorities and Kurds, who claim the government is hampering their efforts to help their brethren in Syria by refusing to let Turkish Kurds cross into Syria.
New clashes today erupted along the border near the town of Suruc, with Turkish police firing tear gas and water cannons to disperse Kurds protesting the government or demanding to reach Syria.
The conflict in Syria had already pushed more than a million people over the border since it began in March 2011. Refugees yesterday reported atrocities by Islamic fighters that included stonings, beheadings and the torching of homes.
"We don't know how many more villages may be raided, how many more people may be forced to seek refuge," Kurtulmus said. "An uncontrollable force at the other side of the border is attacking civilians."
Suruc itself was flooded with refugees and armored military vehicles.