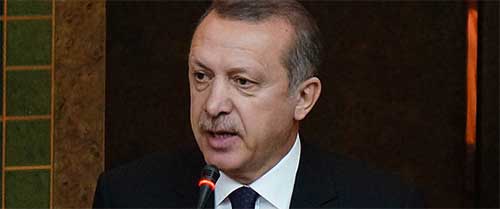 Turkey is ready to support the US-led coalition efforts to defeat the Islamic State in Iraq and the Levant (ISIL) both militarily and politically, President Recep Tayyip Erdoğan was quoted as saying on Tuesday.
After securing the safe return on Saturday of 46 Turkish citizens who were kidnapped by ISIL in June from Turkey's Mosul Consulate General, Turkish officials' rhetoric seems to have changed about the extent of cooperation that Turkey may provide. Previously, Turkey has been cautious about expressing open support for the coalition, worrying that any support could put Turkish hostages' lives in the hands of brutal ISIL militants in danger.
Speaking to Turkish journalists on Tuesday, Erdoğan, who is in New York to attend the annual United Nations summit, said Turkey will do its part to support the coalition against ISIL after government officials consider the issue and make a decision.
Asked what the nature of this support will be, Erdoğan replied: "It includes everything. Militarily, politically. All of them."
President Erdoğan, in an interview recorded on Monday before the US airstrikes in Syria began, told PBS talk show host Charlie Rose, "We have to make sure that we dry out this swamp," referring to ISIL.