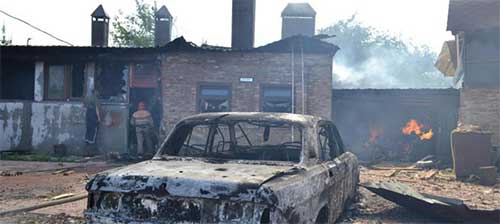 Ukrainian officials on Monday reported more deaths among government troops and independence-seeking insurgents over the past 24 hours in the conflict in eastern Ukraine.
Andrei Lysenko, spokesman for the National Security and Defense Council, said that two pro-government fighters from volunteer battalions and an unspecified number of Ukrainian army soldiers were killed when rebels ambushed a Ukrainian military checkpoint in Lugansk region on Sunday.
Meanwhile, the press service of the Ukrainian military forces said that 14 insurgents were killed in confrontation with government troops over the past day.
There were also reports about civilian casualties.
Donetsk city council said that six civilians were wounded by shrapnel during the shelling in the city over the past day, but there were no deaths.
As of Monday afternoon, there was fresh shelling in Donetsk, which caused a massive explosion at the local chemical plant. The blast was so powerful that the windows of buildings located within a 9-km radius were shattered, a report posted on the city council's website said.