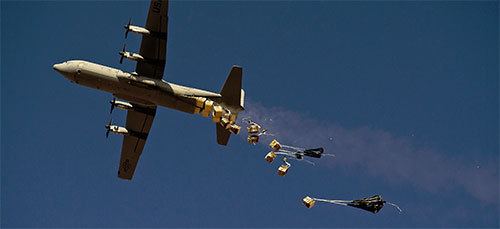 Weapons, ammunition and medical supplies has been airdropped to Kurdish forces defending the Syrian city of Kobani against Islamic State militants, the U.S. military said.
The airdrops on Sunday were the first of their kind and followed weeks of U.S. and coalition airstrikes in and near Kobani, near the Turkish border. The U.S. said earlier Sunday that it launched 11 airstrikes overnight in the Kobani area.
In a statement Sunday night, U.S. Central Command said U.S. C—130 cargo planes made multiple drops of arms and supplies provided by Kurdish authorities in Iraq. It said they were intended to enable continued resistance to Islamic State efforts to take full control of Kobani.