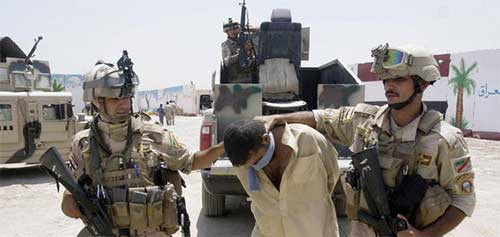 Iraqi security forces and allied tribal fighters rebuffed an attack by Islamic State (IS) militants in a town near the Iraqi capital Baghdad, but were forced to withdraw from another embattled town after two days of fierce clashes in the country's western province of Anbar, security sources said on Thursday.
In the early hours of the day, IS militants carried out their third attack within the past 48 hours on the besieged town of Ameriyat al-Fallujah, some 40 km west of Baghdad, but security forces and allied local Sunni tribesmen repelled them, a source from Anbar provincial operations command, told Xinhua on the condition of anonymity.
IS militants tried to enter the town from three directions using car bombs and armored vehicles and managed to seize the northern suburb of the town but failed to go further, facing strong resistance from the troops and tribal fighters who were backed by Iraqi government aircraft, the source said.
Thursday's attack followed two failed attempts to seize the town on Wednesday, which left at least 32 militants dead, the source said.
Meanwhile, warplanes belonging to the U.S.-led coalition and Iraqi aircraft pounded IS militants around Ameriyat al-Fallujah, killing at least 23 militants and destroying seven of their vehicles, the source added.
The strategic town of Ameriyat al-Fallujah is the last major town under government control that is next to Baghdad and also located some 60 km north of the Shiite holy city of Karbala. If the militants seize the town they will be closer to the Iraqi capital and will also be able to move closer to Karbala, which they could target with artillery and mortars.