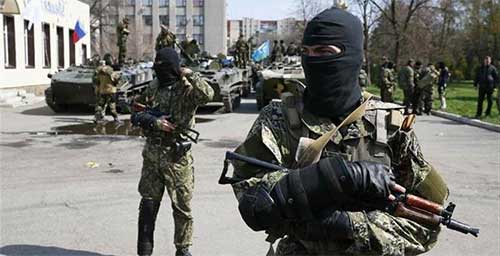 A United Nations political officials tells the Security Council that the fragile cease-fire between rebels and the government is under serious strain.
The fragile cease-fire agreement between rebel pro-Russian separatists and Ukrainian forces are "under continuous and serious strain," a senior UN political official told the Security Council Wednesday.
"With the Minsk agreements in question, and uncertainty over how much strain the cease-fire can withstand, we are deeply concerned over the possibility of a return to full-scale fighting," UN Assistant Secretary-General Jens Anders Toyberg-Frandzen told an emergency session on Ukraine.
The meeting was held amid growing tensions between the West and Russia, with Kiev authorities claiming that dozens of military convoys carrying weapons have crossed into eastern Ukraine from Russia.
"The promise of renewal, and of renewed energy towards solving Ukraine's problems embodied in the recent parliamentary elections threatens to be overshadowed by the worsening security situation in the east of the country," the UN official said, referring to Ukraine's early parliamentary vote held Oct. 26.
One week after the parliamentary elections, pro-Russia rebels held self-rule polls in the regions of Donetsk and Lugansk amid disagreements over legitimacy.
The EU and NATO have denounced the poll as illegitimate, and said it undermined efforts to resolve the conflict. Russia recognized the vote, however, and separatist leader Alexander Zakharchenko was sworn-in as head of the self-declared Donetsk People's Republic.
Tensions in the region has been reported to be at their worst in months since last week, with a heavy exchange of artillery shelling in and around Donetsk