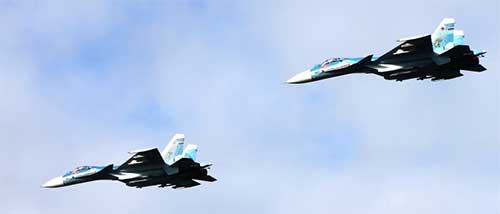 NATO said Thursday there have been around 400 intercepts of Russian military flights near its member countries this year, amid heightened tension between Moscow and the West over the Ukraine crisis.
"If you look at the number of intercepts around NATO, we can talk about 400 intercepts, 50 percent more than last year," NATO Secretary General Jens Stoltenberg told reporters in western Estonia.
"Most of these flights are taking place in an international airspace, but they are close to our airspace, and they are interfering with commercial flights.
"It is a pattern that we haven't seen for many years, back to the time of the Cold War."
He spoke from the Amari air base that hosts the Western defence alliance's air policy mission over the Baltic states, following talks with Estonian Prime Minister Taavi Roivas.
It was his first stop on a tour of the three Baltic states that were once ruled from Moscow and which, like fellow newer NATO member Poland, have been deeply concerned by Russia's actions in Ukraine.
The West believes Russia is pulling the strings in the deadly seven-month conflict between pro-Western government forces and pro-Russian separatists in Ukraine's east — an accusation the Kremlin denies.