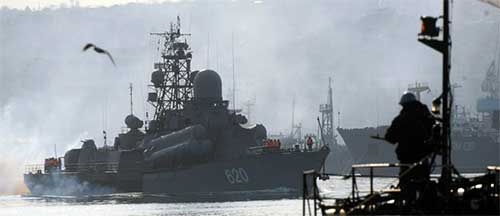 NATO's top military commander said during a visit to Kiev on Wednesday that Russian forces were still operating in eastern Ukraine, providing the "backbone" to separatist rebels fighting government forces.
NATO's top military commander has also warned that Russia's "militarisation" of the annexed Crimea region could be used by Moscow to exert control across the whole Black Sea region.
"We are very concerned with the militarisation of Crimea," US General Philip Breedlove told a press conference in Kiev.
"The capabilities that are being installed in Crimea will bring an effect on almost the entire Black Sea."
Breedlove, the commander of American forces in Europe, says that cruise and surface-to-air missiles installed on the peninsula, which Russia seized from Ukraine in March, would be "able to exert influence" over the strategic region.
He says the US-led alliance is "watching for indications" amid fears over the possibility that Russia could move any of its nuclear arsenal to Crimea.