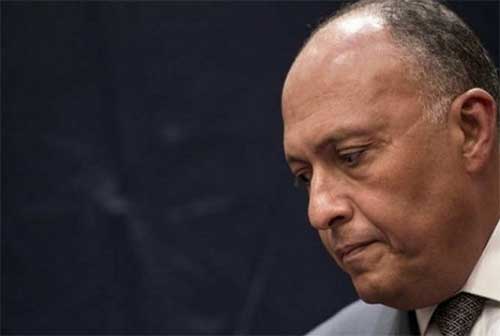 Egyptian Foreign Minister Sameh Shoukry called Monday for "concerted efforts" to combat terrorism in the Middle East and Africa during a meeting with the European Union's counter-terrorism coordinator.
Shoukry hosted Gilles de Kerchove at the Ministry of Foreign Affairs headquarters in Cairo on Monday morning. The duo discussed "regional and international efforts to combat the phenomenon of terrorism and the serious threat it represents to security and stability in various parts of the world", said ministry spokesman Badr Abdelatty in a Monday statement.
During the meeting, Shoukry commented on the "importance of concerted efforts" to address these terrorist organisations in the Middle East and Africa. He stressed to de Kerchove that these organisations pose a threat to the entire world, "including the EU".
Shoukry said these groups rally around "extremist ideas and adopt the same common goals as well as to bring them together to coordinate operations on the ground". The minister added that terror groups "have to be addressed with…firmness and strength", as well as blocking their funding and "confront extremist ideas". He pointed to the role of the Cairo-based religious school Al-Azhar's role in "spreading the values and principles of moderate and tolerant Islam".
De Kerchove stressed the EU's "seriousness" in confronting terror, "especially with the phenomenon of European youth recruitment in these organisations", according to Abdelatty.
The spokesman said Shoukry and de Kerchove discussed coordination between Egypt and the EU to confront terrorism. The pair also discussed the situation in Libya "and the impact of instability there on the spread of terrorist organisations".