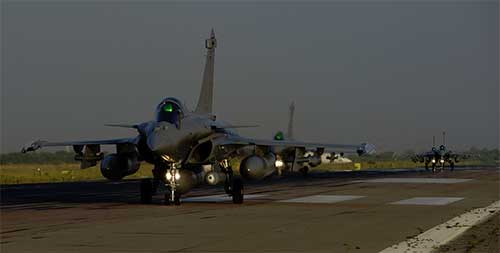 The French and Indian defence ministers agreed on Monday to overcome any differences and finalise the sale of 126 fighter jets to India in a deal worth an estimated $15 billion, the Indian defence ministry said.
France's Dassault Aviation has been trying to clinch a deal to sell India its Rafale jets since New Delhi chose the company over other foreign plane manufacturers in 2012. But disagreements over cost and work-sharing have slowed talks, while India's weak economy has stretched government finances.
On Monday, French Defence Minister Jean-Yves Le Drian met his Indian counterpart Manohar Parrikar, who was appointed defence minister last month.
"Both sides agreed to take forward the strategic co-operation between the two countries. They discussed all issues including Rafale. It was decided that whatever differences still existed would be resolved in a fast-track manner," said Indian defence ministry spokesman Sitanshu Kar.
Under the deal, which would provide a major boost to French domestic defence manufacturing, the first 18 planes will be made in France and shipped to India, while the remaining 108 will be produced by state-run Hindustan Aeronautics Ltd.