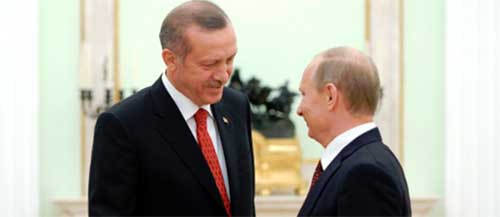 Russian President Vladimir Putin has arrived in Ankara to start his one-day state visit to Turkey.
During his stay here, Putin is expected to hold talks with his Turkish counterpart Recep Tayyip Erdogan on bilateral relations and several regional and international issues and affairs that concern both sides, according to a presidential statement.
They will also discuss new cooperative horizons and joint strategic ventures in the oil field, it said.
Both leaders will be participating in the fifth High-Level Russian-Turkish Cooperation Council Summit.
Putin's delegation consists of Foreign Minister Sergey Lavrov, Energy Minister Aleksandr Novak, Minister of Justice Aleksandr Konovalov, Minister of Transportation Maksim Sokolov, Minister of Labor and Social Protection Maksim Topilin and Minister of Economic Development Aleksey Ulyukayev.
The fourth meeting of the Turkish-Russian High Level Cooperation Council was held in St. Petersburg on Nov. 22, 2013 during which both countries signed five agreements to cooperate in the fields of energy, customs and information.