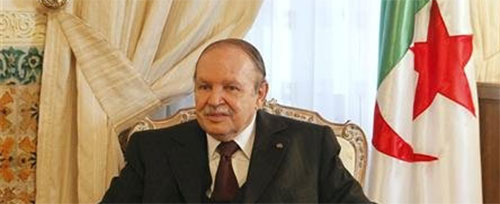 President of Algeria Abdelaziz Bouteflika on Sunday in Algiers held one-to-one meeting with his Greek counterpart Karolos Papoulias, on a state visit to Algeria.
President Papoulias started Saturday a three-day state visit to Algeria, at the invitation of President Abdelaziz Bouteflika.
ALGIERS – The one-to-one meeting held on Sunday in Algiers between President Abdelaziz Bouteflika and his Greek counterpart, Karolos Papoulias, have been extended to the members of delegations of both countries.
The meeting was attended by the Speaker of the Council of the Nation (Upper House) Abdelkader Bensalah, Prime Minister Abdelmalek Sellal, Minister of State, Private Secretary of the Presidency of the Republic, Ahmed Ouyahia, Foreign Minister Ramtane Lamamra, and Minister of Industry and Mines, Abdeslem Bouchouareb.
These talks represent an opportunity to give new impetus to the relations of friendship and cooperation existing between Algeria and Greece.