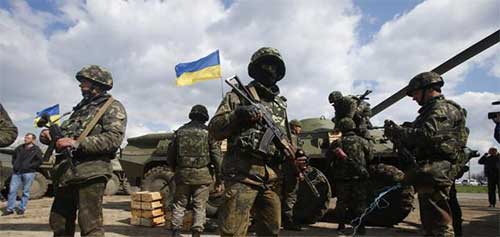 Ukrainian forces on Tuesday suspended operations against independence-seeking insurgents in the country's eastern regions, the government said.
A ceasefire initiated by Ukrainian President Petro Poroshenko was established within the "day of silence" framework in the combat area, the press service of the government's military operation said in a statement.
But the truce, starting from 8:00 am local time (0600 GMT), was violated by a mortar fire only one hour after coming into force, said Leonid Buryachenko, a spokesman for the Defense Ministry.
He added that it was not immediately clear who was behind the fire.
Meanwhile, Andrei Lysenko, a spokesman for the National Security and Defense Council, said government troops were "strictly abiding" by the ceasefire agreement.
"The Ukrainian military enforce rigidly the declared regime of silence," Lysenko told reporters.
Last week, Poroshenko ordered government forces to hold the so-called "day of silence" in the eastern regions, in an effort to recover a ceasefire agreement signed with the insurgent leadership on Sept. 5 in the Belarusian capital of Minsk.