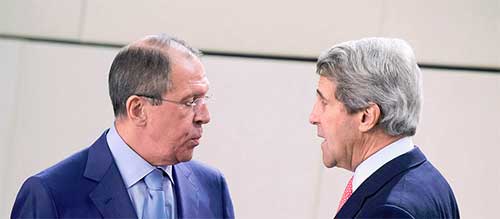 Top US diplomat John Kerry was to meet his Russian counterpart Sergei Lavrov Sunday, amid anger in Moscow over the prospect of new US sanctions and possible lethal military aid for Ukraine.
The meeting in Rome comes as tensions soar after US lawmakers passed a bill — dubbed the Ukraine Freedom Support Act — calling for additional sanctions against Russia and the delivery of up to $350 million (280 million euros) worth of US military hardware to Kiev.
"Undoubtedly, we will not be able to leave this without a response," deputy foreign minister Sergei Ryabkov told Interfax news agency ahead of the talks.
The Senate bill must still be approved by the White House, which has so far been reluctant to provide direct military assistance to Ukraine for fear of being drawn into a proxy war with Russia, which is backing separatist forces in Ukraine.
The legislation authorises — but does not legally require — President Barack Obama to provide lethal and non-lethal military aid to Ukraine, including anti-tank weapons, ammunition and troop-operated surveillance drones.
State Department officials have insisted there are no plans to move beyond providing non-lethal supplies such as body armour and communications equipment.
Kerry arrived in Rome on a grey afternoon and was whisked straight to his luxury hotel before talks at the US ambassador's residence with Lavrov.
The conflicts in Ukraine and Syria would figure high on the agenda.