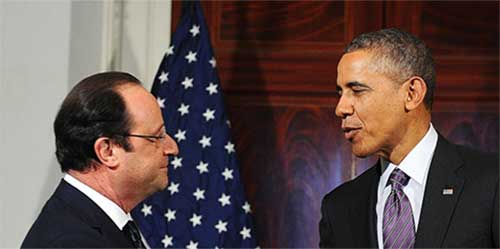 French and US Presidents, Francois Hollande and Barack Obama respectively, discussed over the phone Tuesday developments in the Middle East and the fight against terrorism.
Hollande thanked Obama for the US support following the "terrorist attacks" that took place in Paris recently, the president's office said in a statement and noted the two leaders also discussed bilateral and international cooperation against terrorism.
The two men discussed the situation in Ukraine, the Iranian nuclear negotiations and agreed on importance of reviving the peace process in the Middle East.
US Secretary of State John Kerry visited Paris last Friday and met with Hollande and foreign minister Laurent Fabius, extending Washington's solidarity with Paris following the January 7 attacks that killed and injured many people.