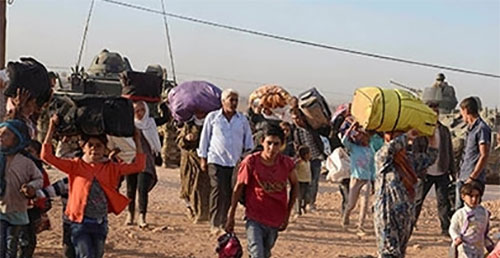 Prime Minister Ahmet Davutoğlu has said Turkey is unable to close its 510-mile-long border with Syria, which has been crossed by thousands of foreign terrorist volunteers.
"We cannot put soldiers everywhere on the border. In any case, there isn't any state on the other side [of the frontier]," Davutoğlu said on Wednesday during his visit to the UK.
Turkey has been the target of criticism, especially by the Western media, for turning a blind eye to foreign fighters crossing into Syria and Iraq via Turkey.
Davutoğlu brushed aside reports that the US is no longer committed to ousting Syrian President Bashar al-Assad, saying that the US had been saying openly and "telling Turkey behind closed doors" that it still wants Assad to go.
The prime minister reiterated his irritation at the way in which Turkey's motives and actions are misinterpreted as sympathy for the Islamic State in Iraq and the Levant (ISIL).