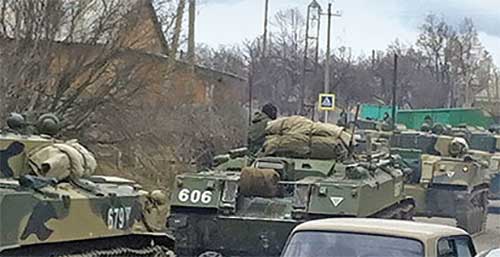 Ukrainian President Petro Poroshenko said on Wednesday that more than 9,000 Russian troops were backing Ukrainian separatist fighters that Moscow will be under pressure to reel in at high-stakes peace talks in Berlin.
Poroshenko´s claims followed days of heavy fighting that has left an already shaky September truce in tatters and forced the pro-Western leader to cut short his visit to the World Economic Forum in Davos.
But the 49-year-old leader was greeted warmly at the Swiss forum as he delivered an emotional address that saw him holding up a fragment of a bus in which 13 civilians died after being hit by an alleged rebel-fired rocket last week.
More fighting on Wednesday killed at least six people across separatist-controlled regions of the ex-Soviet republic´s industrial southeast.
"We have more than 9,000 troops of the Russian Federation on my territory, including more than 500 tanks and heavy artillery and armed personnel carriers," Poroshenko told the high-powered Swiss audience in English. Ukraine on Tuesday alleged that Russian regular forces attacked its troops in the Lugansk region, the first such claim since the September ceasefire.
Moscow strongly denies supporting the insurgents despite Nato satellite imagery purporting to show its forces´ presence in Ukraine.
Poroshenko stressed there was no military solution to the brutal nine-month conflict that has killed more than 4,800 people and brought Ukraine's economy to its knees.
But he also insisted that the key to peace was held by Russia.
"The solution is very simple. Stop supplying weapons. Stop supplying ammunition. Withdraw the troops and close the border. A very simple peace plan," Poroshenko said to a round of applause in Davos.