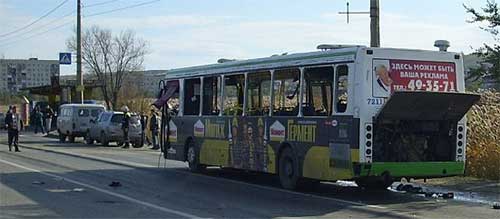 The shelling of a bus and clashes in Ukraine's separatist east left 34 people dead on Thursday as Kiev was forced to abandon its defence of Donetsk's airport in one of the deadliest days of the nine-month war.
In the worst incident, 13 civilians died when shelling hit a trolleybus on Thursday morning in the rebel bastion of Donetsk, with Kiev alleging that ultimate blame for the tragedy rested with Russia.
The violence came only hours after peace talks in Berlin called for a ceasefire and as the toll from the conflict surpassed 5,000 dead, with a million people also forced from their homes.
Another 10,000 people have been wounded by rocket and mortar strikes raining down daily on the industrial region's residential districts, Michael Bociurkiw of the Organisation for Security and Co-operation in Europe told Ukrainian radio.
With intensifying clashes rocking Donetsk airport in recent days, Ukraine's military said early Thursday that its troops had abandoned the main part of the site.
The airport had become the symbolic prize of the conflict, with the army and pro-Russian rebels continuously battling for control of the devastated site.
"On Wednesday evening we made the decision to leave the new terminal," military spokesman Vladyslav Seleznyov said in reference to the main airport building that had been held by Kiev forces since late May. The trolleybus shelling was among the bloodiest incidents involving civilians in recent months in a conflict that has devastated the ex-Soviet republic's industrial heartland and brought Ukraine's economy to its knees.