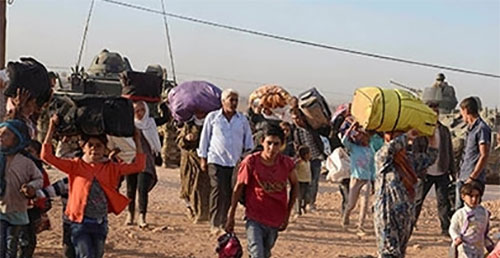 Turkey's border with Syria has again witnessed tension in the wake of Kurdish forces' success in driving jihadists from Kobane, with Ankara contrastingly attracting international applause and domestic opprobrium over the affair.
Turkish President Recep Tayyip Erdoğan, meanwhile, slammed the Kurdish parties fighting there for ruining the town, once home to around 200,000.
Turkish security forces intervened against a group of people Jan. 27 who attempted to cross into Kobane, the site of four months of clashes, from the Turkish border town of Suruç, after reports said Kurdish forces had gained dominance in the town.
Hundreds of people gathered to cross the border before security forces fired tear gas and water cannon at the crowd.
The tension decreased after the group moved back from the border following a call from Peoples' Democratic Party (HDP) officials. Ten HDP lawmakers have gone to Kobane since the announcement of liberation.
A group of six deputies was seen smiling in front of heavily damaged buildings in a photo on Twitter, which is captioned with "the first images from free Kobane" in Turkish.
The Syrian Observatory for Human Rights said on Jan. 26 that the Kurdish People's Protection Units (YPG) and the Women's Protection Units (YPJ) had expelled all ISIL fighters from Kobane and that the YPG/YPJ have full control of the town. The group said Jan. 27 that battles continued outside Kobane. Kurdish forces control 90 percent of the Kobane, U.S. Central Command also confirmed.
Television footage aired yesterday showed entire blocks leveled by bombardment and tangled steel and chunks of cement sprawled along muddy streets. Roads were littered with unexploded ordnance and mortar casings.
Turkey has already welcomed 200,000 people from Kobane, Erdoğan said yesterday while criticizing the Kurdish forces for bombing and ruining the town.