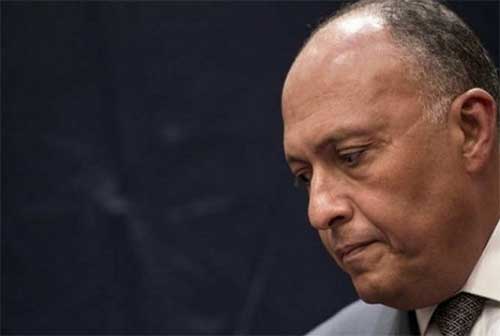 Egyptian Minister of Foreign Affairs Sameh Shoukry met with the President of the International Peace Institute in the United Nations, Terry Larson, in Cairo Tuesday, according to a statement by the Ministry of Foreign Affairs.
The meeting discussed the bilateral relations between Egypt and the institute, as well as negotiations on a number of regional issues of common interest.
Foreign Ministry Spokesman Badr Abdelatty said Shoukry discussed with Larson the foreign ministry's campaign for a non-permanent seat for Egypt in the UN Security Council.
The meeting also tackled the Palestinian conflict and the situation in Libya, and Shoukry expressed his support for Larson's efforts to launch a national dialogue between the various Libyan parties that reject violence and terrorism.
Libya has been witnessing ongoing battles between the government and extremist militias. This has led to the obstruction of a peaceful transition in Libya after the overthrow of Muammar Gaddafi's regime in 2011.
Other topics discussed included the latest developments in the Syrian crisis and the current situations in both Iraq and Yemen.
Shoukry also met with the British Prime Minister's Envoy to the Sahel, Stephen O'Brien, where they discussed the political and security situations in Africa, focusing on the "rise of terrorist groups, especially those involved with Al-Qaeda".
During the meeting, O'Brien presented a detailed vision of the "European side" to fight terrorism and to "deal with the phenomenon politically, socially, and economically".
Shoukry discussed Egypt's different counter-terrorism strategies, and the role of different Egyptian diplomatic missions to solve the conflict in Libya.