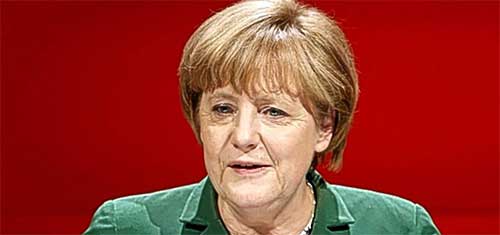 German Chancellor Angela Merkel has said the latest Franco-German initiative to end the deadly conflict in eastern Ukraine "remains uncertain" but was "worth trying" given the ongoing bloodshed.
"I believe we owe this, above all, to the people of Ukraine affected by the conflict," she told the 51st Munich Security Conference yesterday, a day after she and French President Francois Hollande presented to Russian President Vladimir Putin in Moscow a new peace plan to end the fighting that has claimed over 5,000 lives so far."It is uncertain whether it will lead to success, but from my point of view and that of the French president it is definitely worth trying," she said of the latest initiative.
Before travelling to Moscow, Merkel and Hollande discussed their peace initiative with Ukraine's President Petro Poroshenko in Kiev on Thursday.
The UN refugee agency UNHCR estimates that more than 5,400 people have been killed and over 1.6 million people displaced since the fighting between the government forces and pro-Russian separatists began in eastern Ukraine last April.
Details of the new peace plan have not been made public, but media reports quoting various delegation sources said it is based on a ceasefire agreement signed by the government and rebel leaders in Minsk last September, which was ignored by both sides.
The plan calls for an immediate ceasefire and withdrawal of forces by both sides between 50 and 70 kilometres away from the current line of control, the reports said.
Merkel sharply criticised Russia for violating the peace order created in Europe after the World War II by annexing Ukraine's Crimean peninsula in March last year and by supporting the rebel forces in eastern Ukraine.
Russia has been pursuing a policy of changing borders by force, which has no place in the 21st century, she said.