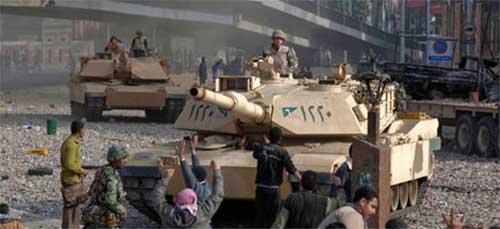 At least 17 militants were killed Wednesday during security raids in Rafah and Sheikh Zuweid cities in Egypt's North Sinai province, a security source said.
"Four were killed in land raids while the other 13 were killed in an airstrike," the source said. He added that the raids destroyed seven buildings and 20 huts that were used as hiding places for the militants to launch their attacks.
As part of the new Egyptian leadership's "war against terrorism," security campaigns over the past week have killed dozens of militants in the northern part of the restive peninsula.
The anti-security attacks mounted in Sinai and other parts across the country since the ouster of Islamist president Mohamed Morsi in July 2013. The following crackdown on his supporters has left about 1,000 killed and thousands more arrested.
In late January, a series of simultaneous terrorist attacks and suicide bombings in North Sinai killed more than 30 military and policemen in addition to 14 civilians.
Earlier in October 2014, a car-bomb attack in North Sinai killed around 30 Egyptian soldiers.