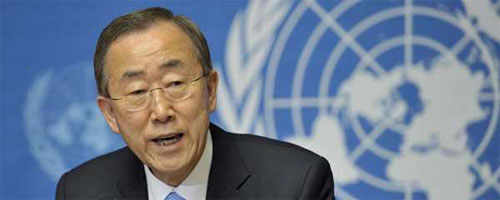 UN Secretary General Ban Ki-moon condemned in a statement the attack on a Shia mosque in Peshawar in Pakistan during Friday prayers, which has reportedly killed at least 19 people and injured dozens.
The attack killed Naveed Abbas, a Pakistan national working with the UN Department of Safety and Security, Ban's press office said in a statement Friday.
The statement noted that the attack came merely two weeks after more than 60 people were killed in another attack on a Shia mosque in Shikarpur in southern Pakistan.
Ban, it added, is deeply dismayed by such repeated targeting of innocent people on account of their religious beliefs and in their places of worship. There is no justification for such crimes, he said.
Ban called on the Pakistani authorities to bring swiftly to justice the perpetrators, and urged them to redouble their efforts to protect religious and ethnic minorities and to combat terrorism in all its forms.
The UN official extended his heartfelt condolences to the families of the victims and to the Government and people of Pakistan.