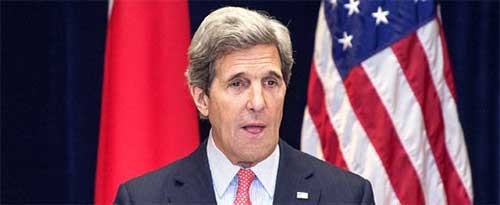 In a strongly-worded statement released late Monday, US Secretary of State John Kerry blamed both South Sudanese President Salva Kiir, and his former deputy – now his opponent – Riek Machar, for the incessant violence that has plagued the four-year-old nation, and said the two leaders failed to deliver on promises to negotiate.
"We are well past the point where enough is enough. Leaders must put the interests of their people above their own. The violence must end. A negotiated conclusion to this conflict is required now," Kerry said.
"The warring parties in South Sudan must seize the current and final round of negotiations to deliver a sustainable peace," he emphasized.
"Legitimacy is not a presumed right of any government. It is conferred by the people, and it is sustained only by demonstrating leadership to protect and serve all citizens-responsibilities the government has neglected," Kerry said.
"The opposition has likewise failed to choose peace or make the hard choices required of leaders," he continued.
"Both President Kiir and Riek Machar have promised time and again that they would negotiate a transitional government under the Intergovernmental Authority on Development (IGAD) process, but have failed to make the compromises needed." Kerry warned both men that "the world is watching," adding, "IGAD has outlined the way forward to a transitional government and necessary reforms, but the two sides continue to obfuscate and delay." Both sides "have until March 5 to secure an agreement that is inclusive, that initiates a broad range of transitional reforms and that ensures those responsible for human rights abuses are held to account," he affirmed.
Kerry further pledged the commitment of the Obama Administration to "work with our international partners, including in the region, the UN Security Council, and beyond, to take further concerted action against those who do not demonstrate a willingness to make the difficult decisions needed for peace" in South Sudan.