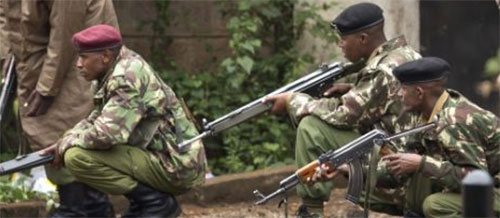 About 15 soldiers from Chad and Niger died in fighting to take control of two towns in northern Nigeria from Boko Haram, the first gains against the militants in a joint offensive launched at the weekend, military sources said on Monday.
About 30 Nigerien and Chadian soldiers were wounded in the clashes over Malam Fatouri and Damasak, a day after thousands of troops crossed the border to seize areas held by the Sunni Islamist group, whose insurgency has forced Nigeria to delay an election and neighbours to mobilise their armies.
The advancing troops had seized large quantities of arms and ammunition as well as vehicles, he said, and were undertaking a clean-up operation in the area.
Damasak, the town furthest into Nigeria, is 10 km (6 miles) south of the Niger border, where Nigerien and Chadian troops had been massing in recent weeks before the offensive.
About 300 Boko Haram militants had been killed. There was no official confirmation of the toll and it was not possible to verify the figure.
There was no immediate comment from Nigeria, which has launched its own offensive against the militants. Their gains forced Nigeria to delay elections that were due in February.