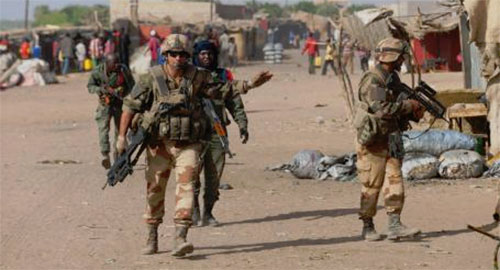 French Foreign Minister Laurent Fabius held talks here Monday with his Malian counterpart Abdulaye Diop to discuss the latest terror attacks in Mali over the weekend and ways to counter radical operations in northern Mali, official sources said.
At least eight people died in two attacks Saturday and Sunday in Mali, a first terrorist operation in Bamako against a restaurant killed five, including a French national, and another attack in Kidal in the north, killed three, including a UN peace-keeper.
"The ministers broached the terrorist attacks in Bamako and Kidal and reiterated our common determination to fight against terrorism," a French statement said, adding that Diop had provided Fabius with the latest information on the terrorist attacks and the ongoing investigations.
Diop told French media that "the best response to the attacks was not to give into panic and to continue to live normally." France and Mali have vowed to continue cooperation and combat radical elements, which have been making guerrilla attacks, mostly in the north of Mali, but have now brought the terror campaign to the capital, Bamako, with the shooting at the central restaurant over the weekend.
"We are in permanent contact with the Malian authorities to assure the best security possible for our nationals," the French Foreign Ministry said. France intervened militarily in Mali in January 2013 to halt a surge by Islamist groups linked to Al-Qaeda that looked likely to overrun the entire country.