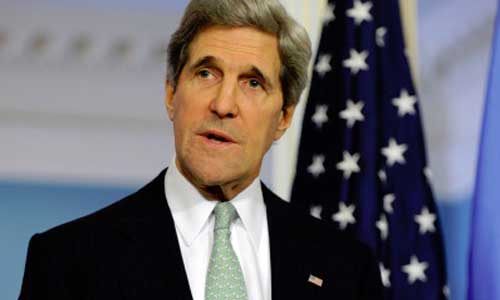 Secretary of State John Kerry announced a "new development partnership" with Afghanistan that includes USD 800 million in aid and plans for the Pentagon to request funding for 352,000 Afghan Security Force personnel through 2017.
The details were announced in a press conference where Kerry spoke alongside Secretary of Defense (DoD) Ash Carter, Afghan President Asraf Ghani and Chief Executive Abdullah Abdullah who held a series of meetings Monday at Camp David focused on security, regional cooperation, and economic matters.
The group also met with Treasury Secretary Jack Lew, Director of National Intelligence James Clapper, and Director of the Central Intelligence Agency John Brennan.
Kerry added that "The partnership will promote Afghan self-reliance by using up to USD 800 million in US aid to incentivize and measure Afghan-led reform and development activities, and strengthen Afghan institutions' sustainability and fiscal transparency, and give the new unity government more opportunity to lead its own development trajectory." Kerry also committed to, "an energy working group that will focus on the synergies of the regional energy market." For his part, Carter asserted the Pentagon's intention to seek funding for "Afghan forces to sustain an end strength of 352,000 personnel through 2017.
Afghan and coalition military commanders have jointly recommended this force size "to ensure that the security gains we've made together are lasting." Additionally, the DoD will reinstate the US-Afghanistan Security Consultative Forum that was halted three years ago and will work as a partner with Kerry's aid program.
Carter highlighted that this team will "open the door to new opportunities" and "strengthen our enduring partnership." In response, Ghani thanked Kerry and noted, "This is a framework that will incentivize the Afghan public and the Afghan government to put our house in order… we must commit to reforms that our people want and desire." "This energy initiative will turn us into a hub, where energy from Central Asia and also, increasingly generated and from Afghanistan will flow into south Asia," he continued.