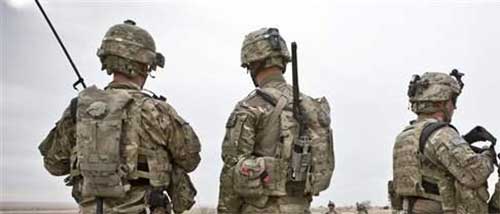 US President Barack Obama said Tuesday he approved Afghan President Ashraf Ghani's request for "some flexibility on our drawdown timelines.
"I've consulted with General Campbell in Afghanistan. My national security team and I've decided that we will maintain our current posture of 9,800 troops through the end of this year," Obama said at a joint press conference with Afghan President Ashraf Ghani following their talks.
"The specific trajectory of the 2016 drawdown will be established later this year to enable our final consolidation to a Kabul-based embassy presence by the end of 2016.
"Now, this flexibility reflects our reinvigorated partnership with Afghanistan, which is aimed at making Afghanistan secure and preventing it from being used to launch terrorist attacks," Obama noted.
"Reconciliation and a political settlement remain the surest way to achieve the full drawdown of US and foreign troops from Afghanistan in a way that safeguards international interests and peace in Afghanistan, as well as US national security interests.
"President Ghani is a leading expert on development, and I've been impressed by the reforms that he's pursuing to make Afghanistan more self-reliant. He wants to empower Afghans in these efforts," he went on.
"And that's why under the New Development Partnership that we announced yesterday, US economic assistance will increasingly go through Afghan institutions, in support of Afghan priorities, with an emphasis on accountability, performance and achieving results," he added.
On his part, Ghani said: "You stood shoulder to shoulder with us, and I'd like to say thank you. I would also like to thank the American taxpayer for his and her hard-earned dollars that has enabled us.
"This unity is a reflection of the desire of the Afghan public to overcome the last 200 years of our political history, where rarely public figures have chosen the country before themselves.