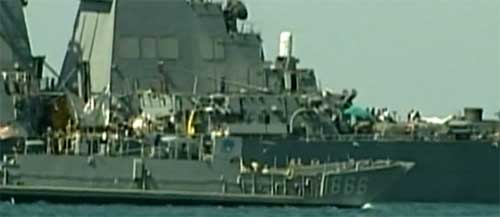 Saudi Arabia, leading the 10-nation coalition undertaking a military operation against the Shia Houthi rebels in Yemen, announced on Monday the coalition's control over Yemen's sea ports.
Ahmed Al Asiri, spokesperson of the "Decisive Storm" military operation, said that the Saudi-led coalition carried out a maritime campaign which succeeded in securing Yemen's sea ports, where all arriving and departing ships were being screened.

He added that there was a failed attempt by the Houthis to launch a ballistic missile targeting a Saudi centre along the border.
"Houthi militia launched the missile in Sanaa, but it fell due to technical malfunction, and the coalition forces rushed to the area and destroyed it."
The spokesperson said that the objective of the coalition was to destroy all ballistic missiles of the Houthis and stop them from advancing towards the southern port city of Aden, where Yemen's President Abd-Rabbu Mansour Hadi had been holding court since the rebels took over the control of capital Sanaa earlier this year.
Al Asiri said that the rebel militias were storing weapons to attack Yemenis and the neighbouring countries.
Saudi Arabia and fellow Gulf Cooperation Council (GCC) states launched airstrikes on Houthi positions in Yemen on March 26, a move condemned by Iran, but supported by the US, Egypt, Jordan, and Morocco.